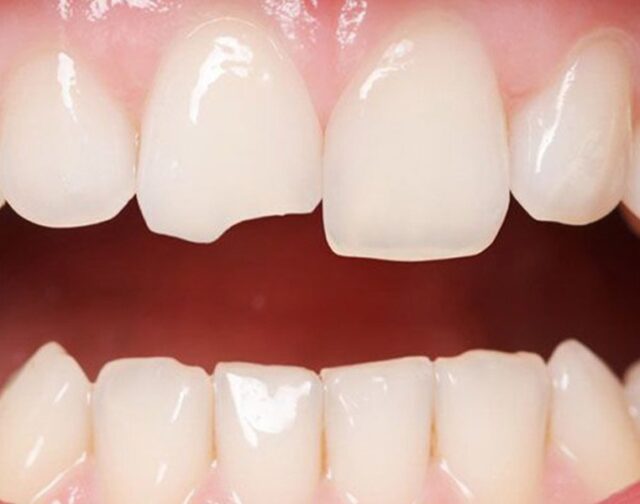 Crooked teeth, also referred to as misaligned teeth or malocclusion, can occur due to various factors, including:
Thumb Sucking

Tongue Thrusting

Disproportionate Size of the Jaw Compared to Teeth

Genetic Factors

Facial Injuries

Prolonged Bottle Feeding

Poor Dental Hygiene Practices

Growth and Developmental Anomalies

Malnutrition

Early Tooth Loss

Mouth Breathing

Myofunctional Disorders
To prevent crooked teeth, consider these preventive measures followed by our dental clinic giving best orthodontic braces treatment:
Encourage cessation of habits such as thumb sucking, mouth breathing, and prolonged bottle feeding.

Promote Excellent Oral Hygiene Practices.

Address Missing Teeth Early.

Maintain a Balanced Diet.

Be Aware of Family History of Dental Issues.

Identify Misalignment Issues Early On.
When to Seek Treatment for Crooked Teeth
Best Treatment for crooked teeth may be necessary if you experience:
Abnormal Alignment of Teeth

Difficulty or Discomfort While Chewing or Biting

Periodontal (Gum) Disease

Excessive Tooth Surface Wear

Lower Self-Esteem Due to Dental Appearance

Speech Difficulties

Halitosis (Bad Breath)
Treatment for Crooked Teeth
Treatment options include:
Permanent Solutions:
Habit Correction: Using orthodontic appliances to correct habits like mouth breathing, thumb sucking, and tongue thrusting, followed by braces.

Braces: Orthodontic appliances consisting of brackets and wires that apply constant pressure to teeth and jaws, gradually moving and aligning them.

Invisalign: Clear and transparent trays custom-designed to fit over teeth, used until the desired alignment is achieved.

Dental Crowns: Placing crowns on natural tooth structures in cases of missing teeth.
Temporary Solutions:
Dental Veneers: Thin porcelain layers applied to correct mild misalignment of tooth surfaces.
Post-operative Care:
Avoid Sticky or Chewy Foods During Treatment.

Maintain Regular Brushing Twice Daily.

Attend Scheduled Dental Visits.

Avoid Hard Foods While Undergoing Treatment.
Book your appointment Now at Indu's Dental Clinic with the best dentist in Vizag, providing the Best Dental treatments in Visakhapatnam for all your Dental needs
Visit www.indudental.in (or) call +91- 888 631 4525 for hassle-free dental treatments.
Also Follow us on Instagram and Facebook to access tips, events, and a gallery of our success stories.