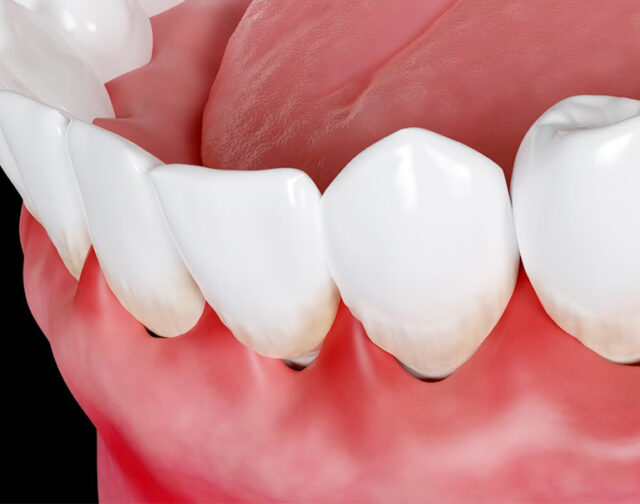 Swollen gums, a painful condition characterized by irritated and easily bleeding gums, can be attributed to several factors, including:
Gingivitis (Gum Disease)

Pregnancy

Malnutrition

Inadequate Oral Hygiene Practices

Dry Mouth

Deficiency in Vitamin C

Dental Abscess

Conditions like HIV/AIDS

Medications (such as phenytoin)

Hormonal Changes

Genetic Predisposition

Smoking or Chewing Tobacco

Advanced Age

Food Particles Lodged in Teeth

Poorly Fitted Dentures, Crowns, etc.

Jagged Tooth Surfaces

Impacted Wisdom Teeth

Preventing Swollen Gums
 To prevent swollen gums, consider these preventive measures:
Brush Teeth Twice Daily and Floss Daily.

Avoid Sugary Drinks and Foods.

Refrain from Alcohol and Tobacco Use.

Use Gentle Toothpaste and Mouthwash.

Steer Clear of Sharp Foods like chips.

Schedule Regular Dental Check-Ups.

When to Seek Treatment for Swollen Gums
Get the best swollen gums treatment with the  best dental care in visakhapatnam with us. Treatment for swollen gums may be necessary if you experience:
Gum Sensitivity or Tenderness

Bad Breath

Gum Bleeding

Gum Recession

Red or Darkened Gums

Swelling or Puffiness in the Gums

Dry Mouth

Treatment for Swollen Gums
Treatment options include:
Identifying the Underlying Cause.

Scaling to Remove Calculus and Stains from Tooth Surfaces.

Adjusting Medications Responsible for Swollen Gums.

Deep Curettage, involving the removal of inflamed soft tissue with curettes.

Flap Surgery, where outer gum tissues are gently folded back to access roots, ligaments, and bone tissues.

Orthodontic Treatment for Correcting Teeth Misalignment.

Obtaining New Dentures if the existing ones are ill-fitting.
Post-operative Care:
Regular Oral Prophylaxis.

Brushing Teeth Twice Daily and Flossing Daily.

Monitoring General Health.

Using Prescribed Mouthwash as Directed by the Dentist.
Book your appointment Now at Indu's Dental Clinic with the best dentist in Vizag, providing the Best Dental treatments in Visakhapatnam for all your Dental needs
Visit www.indudental.in (or) call +91- 888 631 4525 for hassle-free dental treatments.
Also Follow us on Instagram and Facebook to access tips, events, and a gallery of our success stories.