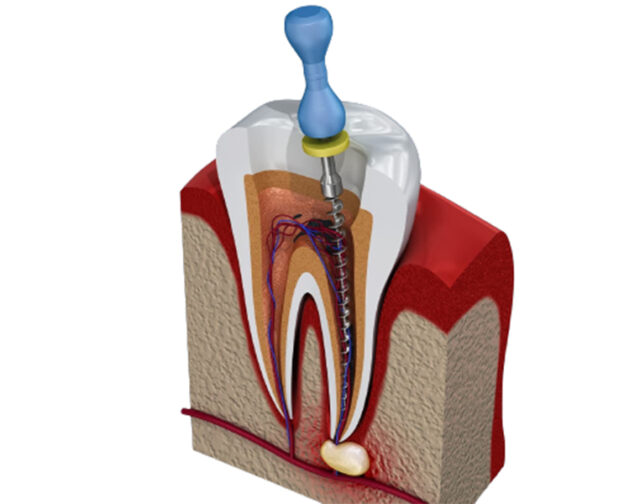 What is Root canal treatment?
Root canal treatment is a precise procedure that entails the removal of infected pulp from a tooth, followed by sealing it with a special filler to prevent further infection. At Indu's Dental Specialities in Vizag, we take immense pride in offering the Best Root Canal Treatment In Vizag. With a highly experienced and professional team of dentists and staff, rest assured that you will receive top-notch quality services at our dental clinic.
When Should You Consult a Dentist for Root Canal?
The answer to when you should see a dentist for root canal can be summed up in a single word – promptly. If you're experiencing severe toothache, it's imperative to schedule an appointment with your dentist without delay. Delaying treatment may exacerbate the pain and even lead to the loss of the affected tooth.
The longer you wait, the higher the risk of bacterial spread, causing more extensive damage. Typical signs of tooth decay or infection that require immediate attention include facial swelling, fever, chills, a sore throat, and difficulties in chewing and swallowing.
Benefits of Root Canal Treatment with best Dentists for Root Canal through crowns
Tooth discomfort can arise from various causes, with pulp infection being a common culprit – an inflammation of the soft tissue within the tooth. This can result in gum discomfort and swelling. Root canal treatment, also known as endodontic treatment, involves the removal of infected pulp from your teeth and its replacement with a special filling material called gutta-percha. This procedure not only relieves pain but also preserves the health of your tooth.
There are numerous advantages to undergoing endodontic root canal treatment:
Immediate pain relief

Prevention of further damage and tooth loss

Safeguarding your oral health

Elimination of infection and pain

Promotion of healthier gums and bone tissue around the tooth's root tip

Prevention of infection from spreading throughout your body via the bloodstream
Endodontic Root Canal Treatment by Vizag's best Doctor for Root Canal 
The primary goal of a root canal treatment is to thoroughly cleanse the interior of the affected tooth, removing any infection and restoring its normal function and appearance. At Indu's Dental Specialities, our Best Dentist in Vizag for Root Canal excels in performing exceptional endodontic root canal treatment. We offer comprehensive root canal treatment services for our patients in Vizag city.
Our best dentist for root canal:
Exceptional professional credentials

Years of invaluable experience

Specialized training in the field of endodontics
They are highly skilled in performing all phases of endodontic therapy and can provide advanced procedures such as regenerative endodontics or apicoectomy if necessary for your unique case.
Our specialized team, consisting of doctors, surgeons, orthodontists, endodontists, and other dental professionals, collaborates seamlessly to provide you with world-class root canal treatments that align with your specific needs, ensuring you soon regain a healthy smile.
The 7-Step Procedure Involved in Our Root Canal Treatment in Vizag:
Diagnosis and examination of the affected tooth, including X-ray assessment.

Administration of local anesthesia to alleviate pain.

Careful endodontic access, including drilling to reach the tooth's inner portion.

Removal of pulp tissues from the inner pulp chamber using specialized endodontic files.

Thorough cleansing and disinfection of the area using saline and Sodium Hypochlorite.

Filling of the chamber with a biocompatible material called 'gutta-percha.'

The final step entails fitting a protective crown over your tooth.
For top-quality root canal treatment in Vizag and the best dental clinic for root canal procedures, trust Indu's Dental Specialities, your premier dental hospital in Vizag. Seek relief from tooth pain by visiting us today."
Book your appointment Now at Indu's Dental Clinic with the best dentist in Vizag, providing the Best Dental treatments in Visakhapatnam for all your Dental needs
Visit www.indudental.in (or) call +91- 888 631 4525 for hassle-free dental treatments.
Also Follow us on Instagram and Facebook to access tips, events, and a gallery of our success stories.